On-line Qualified Certificate Issuance
On-line Qualified Certificate Issuance is a key component in the eID infrastructure providing the necessary functionality for issuing and renewal of qualified certificates on an eID card through the Internet.
Within the certificate issuing or renewal process the RA eService communicates directly with the card's chip. For this purpose a secure server-to-card communication, resisting any security threads skulking in the communication infrastructure, is established.
The solution uses this secure communication channel to initiate key pair generation on a remote eID card and to store a qualified certificate on it.
The solution has been evaluated by TÜViT in accordance with the Common Criteria EAL4+.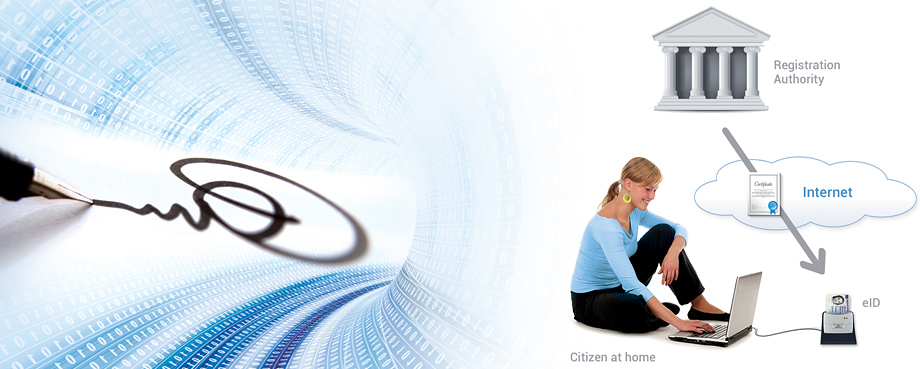 Key Features
Issuing and renewal of qualified certificates over Internet
Secure server-to-card communication based on EAC channel (in accordance with BSI TR-03110)
CMP (RFC4210, RFC4211) and CMC (RFC 5273) protocols for integration with the certification authority's server
Multiplatform client for Windows, Linux & Mac OS X
Works with all internet browsers
TÜViT approved CC EAL4+ concept
Cloud ready
Main Benefits
Easy and fast for the user to get a qualified certificate online
Minimalizing the size of the RA offices infrastructure
Saving costs on the citizen's and on the governmental side
Easy integration with a certification authority body